Koenig's social activism is Most Courageous
By MIKE WATERS / Syracuse Post-Standard
Third Vice President
mwaters@syracuse.com
The American poet E.E. Cummings once wrote, "It takes courage to grow up and become who you really are."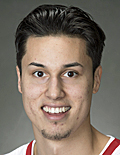 Koenig
Those words describe the journey of Bronson Koenig, a senior guard at Wisconsin and this year's winner of the USBWA's Most Courageous Award.
Last summer, Koenig closely examined who he really was. He's a Native American member of the Ho-Chunk tribe.
While working out with a friend in Los Angeles, Koenig kept hearing reports and watching videos about the Native Americans who were protesting the Dakota Access Pipeline at Standing Rock, N.D.
The issue struck a nerve.
"It's two things. One is human rights and the other is the drinking water," Koenig said. "It's all Lakota land. They're putting the pipeline through Lakota land. I think the U.S. has made 566 treaties with the Native Americans and not honored one of them. With this issue, they're not honoring two or three of the treaties.
"And the concerns about the impact on the drinking water. The water brings people life. It brings Mother Earth life. Native Americans have a spiritual connection to Mother Earth. We don't own a certain piece of land. We're here to be caretakers of the land and Mother Earth."
Koenig saw the images coming out of Standing Rock and wondered why there wasn't more outrage.
"I wanted to raise awareness," Koenig said. "I thought it would be a great experience to go out there and be with all those people.
"But I also thought I had no chance to get there because of my schedule."
Then Koenig's brother, Miles, said he planned on going. A weekend opened up for Bronson in September. Koenig's training partner, Clint Parks, was on board, too.
"We all drove to Standing Rock together," Koenig said.
Koenig was not prepared for what he saw at Standing Rock. The camps were far removed from the protests, but the number of people went into the thousands. Entire families were living in large encampments.
With Parks' help, Koenig planned to put on a basketball clinic for the Native American children at Standing Rock. But even before the clinic, Koenig got an inkling of just how important his appearance would be.
The three arrived right at dusk. The protest sites were 30 minutes away. They drove through the reservation and spotted some kids shooting at a rickety hoop on an outdoor court.
Parks wanted to ask the kids if they were going to the basketball clinic the next day.
"Yeah," said one boy. "If we can get a ride."
Then Parks pointed to Koenig and asked the boys if they knew who he was.
"Bronson, he plays for Wisconsin," the boy said.
"I could barely make their faces out and they knew who I was," Koenig said recalling his first interaction with the people at Standing Rock.
The response to Bronson's clinic was so great that the reservation's indoor gym wasn't big enough. So he added an outdoor clinic with a makeshift hoop on a court of patted down grass.
A classmate who was interning with the Players Tribune put him in touch with a writer there. That story sparked more stories of the star player of Native American descent getting involved in a controversial social issue.
"I didn't really know exactly what I was getting myself into," Koenig said. "I didn't realize my going there would create such a buzz. I didn't know it was that big a deal."
Koenig has experienced some negative reaction.
"Honestly, people are cowards," he said. "I didn't get a lot of direct negative feedback, but I'd read or one of my friends would show me the negative comments on the articles written about me. There were a lot. Just ignorant comments. 'Stupid liberal.' 'Go drink your firewater.' 'How are you getting to the protest? Hope you're riding a horse.' Stupid stuff like that."
But any negativity has been over-shadowed by the positive response.