Gardner joining Bleacher Report with Rising Star award
A restless nature has served David Gardner well over his young career.
The 27-year-old Gardner, named the USBWA's Rising Star by past winners of the award, recently joined Bleacher Report as a staff writer and will write columns and long-form stories there about college basketball. Three years before that, Gardner became the college basketball editor for Sports Illustrated's website.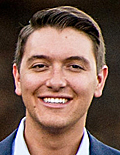 Gardner
"I think I am kind of a wanderer by nature, and there are a lot of things (in college basketball) to grasp my attention," said Gardner, who will begin his new job at Bleacher Report on Feb. 27. "There are so many people, so many stories, and all of them are interesting to me.
At SI.com, Gardner exhibited a versatility beyond his years.
"I've always been impressed at how effortlessly he can wear a lot of hats at SI," Luke Winn said while Gardner was still his colleague. "I know these awards tend to be exclusively about writing, but David is our Swiss Army knife: He edits and produces our college hoops section at SI.com, does video commentary in our studio, hosts Facebook Live chats with Wooden Award candidates, records podcasts during the NCAA Tournament – and on top of that, he's a really good writer."
Early on, Gardner was shaped by that wandering spirit. He went to Jamaica with a church group while in junior high, backpacked across Europe in high school and went on a Christian mission that took him to 11 countries in 11 months after graduating from college with degrees in journalism and psychology.
Rather than join school publications at Hillsborough High in Tampa, Fla., Gardner became the assistant editor of an NFL website as a high school senior. Instead of working for The Alligator at the University of Florida, he became an editor and reporter for the NFL website Football Outsiders and GatorCountry.com.
Gardner also attempted early on to surround himself with talented people. While in high school, he corresponded with Michael Silver of SI and Michael David Smith of Pro Football Talk. During his early years at Florida, he reached out to some of the most talented writers and editors in the Tampa-St. Petersburg area, such as Thomas French, a Pulitzer Prize winner; Pulitzer finalists Kelley Benham and Ben Montgomery; and Michael Kruse, a former USBWA member who is now a senior staff writer at Politico.
Gardner soon learned how to deal with rejection when he pitched a story to Benham about author Rick Bragg's first venture into fiction, promising quotes from French and renowned newspaper editor and journalism professor Gene Roberts.
"She wrote me back," Gardner recalled with a laugh, "and said, 'It sounds like a great story idea, but Tom is my husband, Rick is my ex-boyfriend and Gene was my mentor in college. If we wanted the story, we could probably do it on our own.'"
Yet Gardner developed relationships that allowed him to spend quality time with several Tampa Bay Times reporters.
"Back when he was at Gainesville, he'd make tracks for St. Pete," Kruse recalled of Gardner. "He was very eager to help and very eager to learn."
A year after graduating from Florida, Gardner delayed his professional career by going on the World Race, a mission that took him to Guatemala, the Honduras, Nicaraugua, Thailand, Cambodia, Malaysia, Vietnam, Kenya, Uganda, Tanzania and Malawi. He met his future wife, Ash, on that trip. About a year later, in 2013, he was offered the job by SI just a few days before they were married.
"That was a pretty big week for me," he said.
As in his first encounter with Kelley Benham French, one of Gardner's most memorable moments during the past year involved rejection.
Gardner managed to get a couple of quotes from Vice President and Syracuse alum Joe Biden while attending his first Final Four professionally last season, with one of the quotes appearing in Winn's cover story. Gardner attempted a third question when Biden's Secret Service agents cut off his path and the interview.
Biden turned and smiled at Gardner. "Don't worry," Biden said. "It happens to everyone."
That night, it happened only to the one editor who was inspired to wander from his seat in the hopes of making a colleague's story even better.
That's why he is the USBWA's Rising Star.