CoSIDA's Kowal named Haverbeck winner
By MEL GREENBERG
poll416@gmail.com
With the Women's Final Four to be held this year in Dallas in the Lone Star State, awarding Barb Kowal the Mary Jo Haverbeck Award for giving service to the United States Women's Basketball Writers Association has all the right connections.
Though this award is the women's version of the Katha Quinn award on the men's side, Kowal's current role as director of professional development and external affairs for the College Sports Information Directors of America has filtered into both genders on the media side benefitting from her work with a new generation of athletic department media representatives.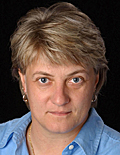 Kowal
Kowal was there at the creation when the powerful Connecticut women's basketball program took off in the early 1990s and was able to help facilitate an increased media demand covering Geno Auriemma and his players.
Then she uprooted from New England to the Deep South to work with a second Hall of Fame coach in Jody Conradt and the University of Texas program before moving into her duties with CoSIDA.
Kowal was a contemporary and friend of Haverbeck, the late pioneering Penn State women's sports information director for whom this award is named.
"That's terrific," Kowal said when given the news of her honor. "I'm in awe and overwhelmed, because first Mary Jo and I were great friends, and second, because I have been there to see those who came before me with this USBWA award and to be placed with this group is humbling and qhite an honor. I'm practically speechless."
Temple's Larry Dougherty, a past CoSIDA president, said: "I can think of no one more deserving of this honor than Barb Kowal. She truly embodies the passion that Mary Jo displayed."
Doug Vance, CoSIDA's executive director, echoed Dougherty. "I'm thrilled for Barb that she has been selected for such a meaningful honor. In particular, because it's an award selected by USBWA that pays tribute to Mary Jo Haverbeck ... one of the very best in the history of CoSIDA."
Judy Willson, assistant commissioner of the Mountain West, added, "Barb is very much like Mary Jo in this aspect. Both women are great examples to those of us who are trying to follow in their footsteps and be the same type of extraordinary leaders in the field."
Auriemma remembered Kowal as the media traffic controller during the rise of the Huskies.
"Barb was with us at a time when it was just starting and we had no experience with just what was coming from a media attention standpoint," he recalled recently. "We were so lucky to have Barb as our SID to guide us through those early years because she was the perfect person to steer us through all the growing pains.
"Over the years, we have gained a lot of experience with the media, but when Barb was here, it was really tough and she managed it perfectly."
Jeff Jacobs, columnist for the Hartford Courant, recalled Kowal's passion in those UConn days.
"When I came over from the NHL, she was the first women's SID I met for basketball, and the passion she had for the sport and doing her job, it was like assertiveness. It really struck me. It really opened my eyes to the game."
Joni Lehmann of the Big 12 Conference remembered Kowal bringing the same passion to the Longhorns.
"She worked tirelessly to provide top-notch service to the media," Lehmann said. "Her attention to detail and passion for promoting her coaches and student-athletes were unmatched."
Kowal, who assists the NCAA's Rick Nixon annually at the Women's Final Four, began as a graduate assistant to Howard Davis at Massachusetts before becoming Manhattanville College's first full time SID (1982-85) prior to joining UConn.